Cardiology is the branch of medicine that deals with the diagnosis, treatment and follow-up of heart and cardiovascular diseases. The doctor with specialized training in cardiology is called a cardiologist.
What is a cardiologist?
Specialists who perform medical treatment of cardiovascular diseases are called cardiologists. Cardiologists also perform interventional cardiology procedures in cases where medication is not sufficient. They are also referred to as 'heart doctors' among the people. Many diseases such as heart failure, high blood pressure, tachycardia (rapid beating of the heart), bradycardia (slow beating of the heart), and atherosclerosis can be controlled with drug treatment. In addition, many interventional treatment methods such as stent placement, balloon angioplasty and pacemaker placement are applied in necessary cases.
What does a cardiologist do?
A cardiologist is a doctor who can treat problems related to heart and vascular problems, such as chest pain, high blood pressure, and so on. They order tests such as electrocardiograms, echocardiograms and CTs (computed tomography) to diagnose diseases. After diagnosing the disease, he can ask for your treatment at home by writing a prescription. Or they may want you to be treated as inpatients in the hospital. However, it can help you start healthier exercise and eating habits.
What diseases do cardiologists treat or help you prevent?
Heart doctors can treat a wide range of heart and vascular problems, including:
Atherosclerosis.
High cholesterol.
Angina (chest pain).
Endocarditis.
Cardiogenic shock.
Heart valve problems.
Heart abnormalities.
Cardiomyopathy.
Myocarditis.
Heart valve disease
Congenital conditions.
Problems with your aorta.
Problems with your arteries.
Stroke.
Sudden cardiac arrest.
Heart failure.
Heart attack.
Blood clots.
Heart rhythm disorders.
What kind of tests does a cardiologist do?
Heart surgeons can order the following tests:
Cardiac catheterization.
Chest X-ray.
Cardiac MRI (magnetic resonance imaging).
Transesophageal echocardiogram (TEE).
Holter monitor.
Event monitor.
Cardiac CT (computed tomography).
Coronary angiogram.
Stress tests.
Electrocardiogram (EKG).
Echocardiogram.
When to see a cardiologist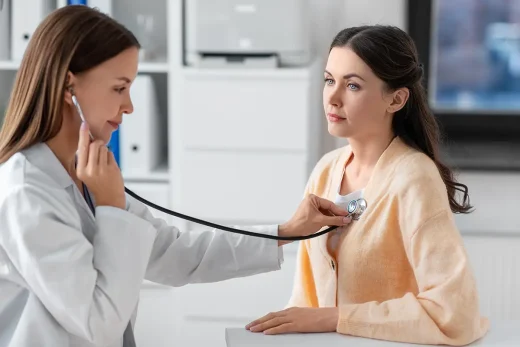 Your cardiology consultants may refer you to a cardiologist if you have a problem with your heart disease that needs care. However, if you feel one or more of these symptoms, you may need to see a heart doctor:
pain in your chest,
dizziness or shortness of breath,
chest pressure and chest discomfort.
Types of cardiologists
The cardiology department has a wide range of fields. Medical doctors receive specialized training for any field of their choice. They work as specialist physicians in that field. But still all cardiologists are knowledgeable and competent in the treatment of cardiovascular diseases. Known types of cardiologists include:
Clinical cardiologist.
Heart failure specialist.
Interventional cardiologist (in interventional cardiology)
Cardio-oncologist.
Congenital heart specialist.
Cardiac imaging specialist.
Pediatric cardiologist
Peripheral interventional cardiologist.
Preventive cardiologist.
Cardiac rehabilitation specialist.
Electrophysiologist.
Geriatric cardiologist.
Cardio-rheumatologist.
Sports cardiologist.
Critical care cardiologist.
Where do cardiologists work?
Heart specialists can work in any hospital that has a cardiology department. However, some doctors may have their own private clinic or office. When most patients feel heart complaints, they search for the phrase 'heart doctor near me' on the internet. You can usually choose to get the services of the doctors in the hospital closest to you. But this may be true for emergencies. You need to find the best cardiologist for your chronic diseases that need examination. For this, you will need a very good research.
What does a cardiologist specialize in?
A cardiologist specializes in heart diseases, which have the highest mortality rates. For example, they are specialists for the treatment of heart failure, heart rhythm problems or congenital disorders. In collocable language, they are often referred to as cardiac surgeons. But cardiologists are not surgeons. But they can apply treatment methods with interventional procedures. These can be procedures such as angiography or stent placement.
Frequently Asked Questions
Cardiologists are not surgeons. But they can apply treatment methods with interventional procedures. These can be procedures such as angiography or stent placement.