Revisional Bariatric Surgery is applied when patients who have undergone bariatric surgery. These patients start to gain weight rapidly after weight loss stops. It can be applied in all gastric sleeve (re-sleeve), gastric banding, gastric bypass operations. It is possible to have a revision surgery after all kind of obesity surgery. You can have revisional surgery after sleeve gastrectomy or revisional surgery after gastric bypass.
Revisional Bariatric Procedures
In studies conducted, weight gain after gastric reduction surgery is between 10 and 20 percent. Revisional weight loss surgery ensures that patients who gain weight return to healthy weights. It also eliminating co-morbidities such as diabetes, hypertension, and fatty liver. Let's not underestimate the serious harm that obesity poses to human health. Therefore, surgeries are firstly for our health. Many of our patients are hesitant to apply to us. There is nothing to be afraid of when it comes to health.
After the operation, the patient is discharged in two to three days. Within 15 days, he can  continue his regular activities.. However, it should not be forgotten that this is the second operation. Also it is more difficult. Therefore, sometimes the length of stay may be longer.
Nutrition
In order for sleeve gastrectomy or gastric reduction surgery to be successful. The patient needs to make a radical change in his/her lifestyle. Also it is valid for revisional  bariatric surgery. It is very important for her to get out of his/her old lifestyle. Also add plenty of movement his/her life. By also working with a nutritionist to completely change his/her eating habits. Revisional gastric bypass surgery diet may have change a little bit. You can consult it to your doctor.
The Diet Program
The diet programs created are on a patient basis, but in general;
It is crucial to consume enough protein to help tissue repair and prevent muscle loss after surgery. Because this is when the rapid weight loss process starts. This consists of approximately 60-80 g of protein per day. (Red meat, chicken, turkey, fish)
The meal that will be ingested should maximize weight reduction while minimizing reflux and dumping syndrome.
The food to be consumed should minimize reflux and dumping syndrome while maximizing weight loss.
By avoiding post-operative difficulties, not skipping meals aids in the healing of intestinal wounds.
The gradual diet program to be applied is the most appropriate diet for post-surgery.
You should drink at least 6-8 glasses of non-carbonated, caffeine-free, and most importantly, calorie-free beverages every day. Do not consume any liquids 30 minutes before meals. Thus, you will prevent your stomach from getting nauseous.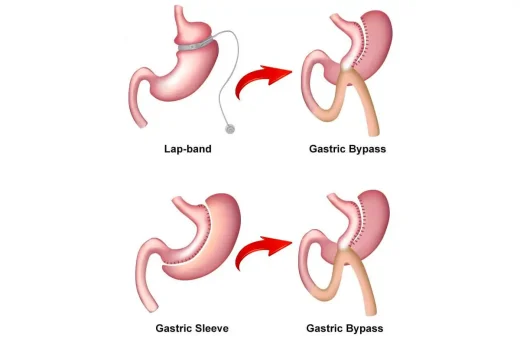 After obesity surgery, a 5-stage diet is applied. These;
Clear Liquid Period,
Concentrated Liquid Period,
Puree Period,
Soft Consentrated Period
Transition to standart food periods.
Bariatric Revision Surgery Options
There are two important points for re-preferring bariatric revision surgery.
The first of these points is that the person's weight loss is temporary. This is one of the first reasons for revision bariatric surgery. ( for more reasons, also see: Secondary Obesity: What is that?) After the first operation,  motivation and appetite change  and the eating pattern changes after the operation. However, it is seen that they lose weight rapidly and their health changes in a positive way. However, after a while, the person starts to return to his/her old habits, and in this case, obesity re-enters his/her life.
Another reason is depending on the surgery; is the inability to produce a permanent result.
Example 1;  A band is placed on the stomach, if the band slips over time, preventing the desired effect, a re-operation is required.
Example 2; In gastric botox, revision surgery is applied when the botox melts over time and causes the stomach to return to its original state.
Revision Bariatric Surgery Cost
It is very possible to be the healthy person again with bariatric revision surgery weight loss process. Revision bariatric surgery cost in Turkey, especially, is really affordable and in safe procedures. Our hospitable medical staff and experienced doctor are happily ready to help you achieve your desires. Please contact with us, to have more information.
Frequently Asked Questions
What is gastric revisional surgery?
It is an operation that corrects or helps the effect of an obesity surgery that is done before.
How successful is a sleeve revision?
At 5, 7, and 10 years after a sleeve gastrectomy, respectively, the rates of revision surgery were 4.7 percent, 7.5 percent, and 12.2 percent.
Is weight loss slow after revision surgery?
Patients will lose fat at their own rhythm, however some who have had revisional bariatric surgery have noted that their weight loss was slower following the second procedure than it was following the first. Following the revision, patients may shed up to 60 percent of their excess body weight.